The William Coffee Table exhibits masculinity with its thick hardwood surface and matching wooden legs. The William was made for those who prefer a time-honored appearance. Made solely from solid hardwood, the William coordinates with numerous decors. It is available in both a 16" height for loungers or a 19" height for chairs and either can be outfitted for an umbrella.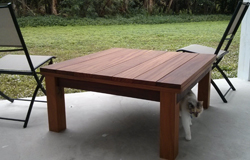 Typical Specifications
top thickness: 1"
top width: 39-1/4"
top depth: 39-1/4"
table height (lounger): 16"
table height (chair): 19"

Construction Information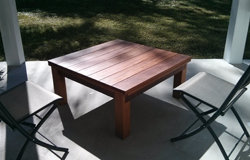 The William Coffee Table is a pure expression of exotic hardwood durability. The table top is created with a classic rail and stile construction with 10mm Beech Domino loose tenon joinery. The table top surface and apron are made from hardwood. The aprons are attached to the top surface with forged stainless steel fasteners.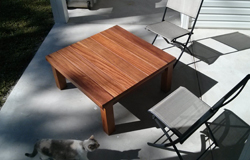 The legs are crafted from solid hardwood measuring 3-1/2 inches wide by 3-1/2 inches deep and mortised to hold the aprons firmly. The leg height will be determined by the style of table requested. The hardwood legs are attached to the apron with forged stainless steel fasteners.