The Margaret Coffee Table brings a refreshing definition to the world of outdoor living with its low-slung existence. Exhibiting both masculine and feminine elements, its sturdy construction will stand up to your most imprudent guests. The 16" version gives ample space to those who worship the sun, sitting low between two loungers. Her lankier 19" tall sister can anchor your sofa or loveseat or comfortably accommodate chairs. The Margaret pairs perfectly with the Patricia Bistro Table.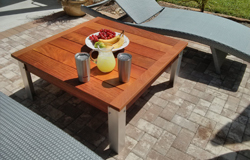 Typical Specifications
top thickness: 1"
top width: 39-1/4"
top depth: 39-1/4"
table height (lounger): 16"
table height (chair): 19"

Construction Information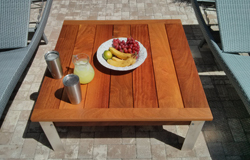 The Margaret Coffee Table is a hybrid combination of exotic hardwood and aluminum. The table top is created with a classic rail and stile construction with 10mm Beech Domino loose tenon joinery. The table top surface and apron are made from hardwood. The aprons are attached to the top surface with forged stainless steel fasteners.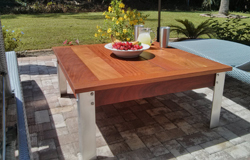 The legs are crafted from structural aluminum angle measuring 3 inches wide by 3 inches deep by 3/8" thick. The leg height will be determined by the style of table requested. The aluminum legs are attached to the apron with forged aluminum hex socket button-head bolts.