The Davis Sitting Bench is a favorite addition to any green space made solely from enduring ipe and aluminum. This transitional piece is often found amidst flowering plants. The Davis can be used as seating for a dining table and is available in varying widths and depths to suit your particular setting. This sitting bench is available with wooden legs. We call the handsome all-wood bench the Devyn. Both the Devyn and the Davis can be constructed from any of our enduring hardwoods.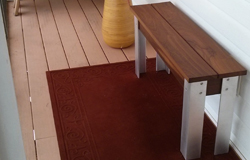 Typical Specifications
top thickness: 1"
top width: 39"
top depth: 11-1/8"
top height: 19"

Construction Information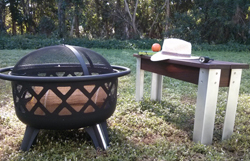 The Davis Sitting Bench is a hybrid combination of exotic hardwood and aluminum. The bench top is created with classic rail construction. The bench top surface and apron are made from hardwood.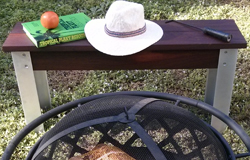 The legs are crafted from structural aluminum angle measuring 3 inches wide by 3 deep by 3/8" thick. The legs height will be determined by the style of bench requested. The aluminum legs are attached to the apron with forged aluminum hex socket button-head bolts.