This unique wall clock was created to fit a specific wall in need of a decorative and useful time piece that could be seen throughout the greatroom. Five blocks of the beautiful figured tigerwood were chosen and adorned with black numbers. Very large 18 inch hands and an extremly powerful high-torque clock engine were chosen to drive the elongated pointers. Ths clock was finished with rosewood oil and installed in the customer's kitchen.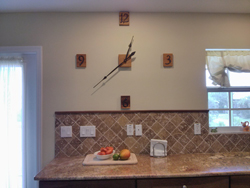 Typical Specifications
thickness: 1-1/2"
width: 42"
height: 42"

Construction Information
The clock was made from 3/4 inch and 1 inch Tigerwood blocks that were hollowed to contain the clock movement and support thier installation.