This king-size custom headboard was ordered for a oceanfront condominium rental unit. It was constructed of Tigerwood, sanded to a ultra smooth finish and hand rubbed with rosewood oil revealing a rich orange and cinnamon color with dark brown streaks. This headboard came with a very reasonable price tag and will last the owner a lifetime. It was installed by attaching it directly to the customer's existing heavy metal bed frame with stainless steel fasteners.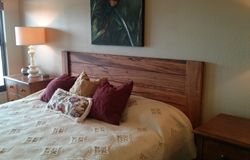 Typical Specifications
thickness: 1-1/2"
width: 83-7/8"
depth: 1-1/2"
height: 48-1/2"

Construction Information
The king headboard was made from 1 inch Tigerwood rails and stiles. All fasteners are forged stainless steel.