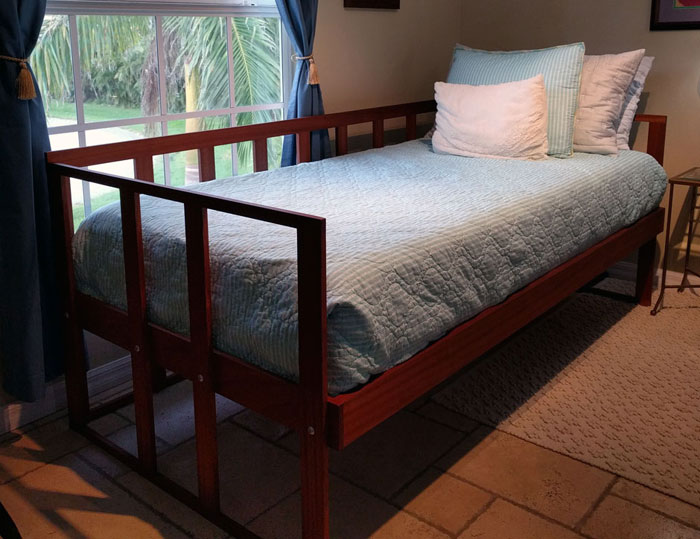 This Sapele daybed was designed and built from only a picture sent in by the client. A spare reading room needed to convert into a sleepover area for visiting children. The solution was to incorporate a daybed for reading and watching television but create a resting area when needed. We utilized a Tuft & Needle foam mattress in the Twin XL size to maximize the sleeping area. The bed was constructed into four major sections for delivery and setup; the mattress frame, the back and two sides make up the structure and is easily bolted together with large 10mm aluminum bolts.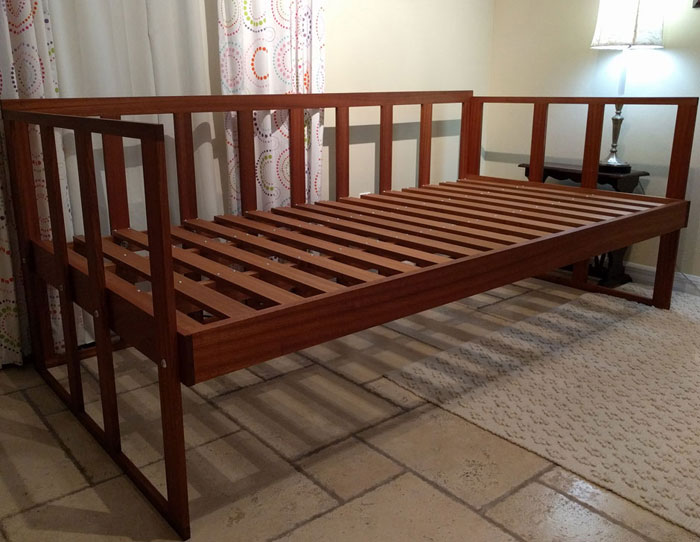 Typical Specifications
width: 83 1/2"
depth: 41 1/2"
top height: 33 1/2"
arm height: 32"
bed height: 27"

Construction Information
The Sapele daybed was constructed from solid wooden tree slabs that were 11 feet long, almost 2 feet wide and over 2 inches thick. We created the finished lumber for the daybed in-house from the giant tree slabs. The daybed is constructed from both 5/8" and 1" thick machined Sapele hardwood that is joined together with waterproof and foodsafe adhesive as well as mechanical fastening through the use of internal beech tenon joinery and stainless steel finish trim screws.