This Brazilian Teak deck was installed inside a top floor screened lanai with a view of Back Bay near Charlotte Harbor. This particular type of gorgeous hardwood decking will outlast the usual pine or composite decking by decades. It will eventually grey over time if left to its own devices but will not deteriorate in the extreme weather conditions presented by the Florida gulf coast. This particular home was appointed with tile floors throughout; the teak deck warmed the area providing both beauty and interest to the very traditional provisions.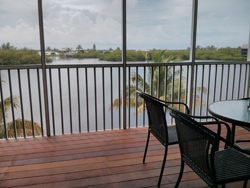 Typical Specifications
top thickness: 3/4"
width: 19 feet
depth: 8 feet
height: 1-1/5"

Construction Information
The porch deck was constructed of 3/4 inch Cumaru, or Brazilian Teak, and set over an existing sub-floor of stamped concrete.