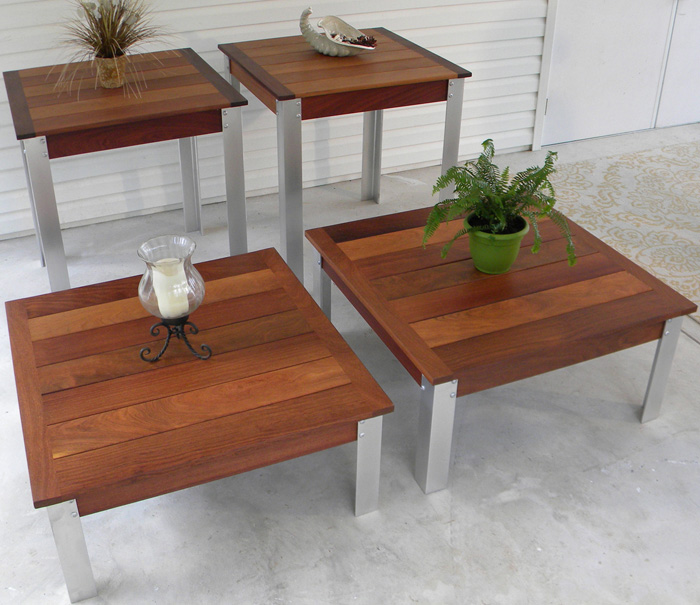 This beautiful Cumaru Patio Set went to Ft. Lauderdale to stage the area between the home, a pool and 100 feet of canal that housed a 64 foot Pershing. The lower coffee table went between two loungers. The higher coffee table went between some teak seating and the two Bistro tables flanked the wall going down to the dock for cocktails.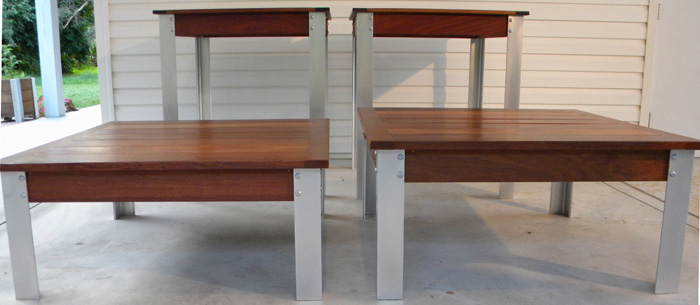 Typical Specifications for Bistro Tables
top thickness: 3/4"
top width: 33-5/8"
top depth: 33-5/8"
table height (bar): 36-3/4"
table height (counter): 32-3/4"

Typical Specifications for Coffee Tables
top thickness: 1"
top width: 39-1/4"
top depth: 39-1/4"
table height (lounger): 16"
table height (chair): 19"

Construction Information
The coffee tables are a hybrid combination of exotic Cumaru hardwood and aluminum. The table top is created with a classic rail and stile construction with 10mm Beech Domino loose tenon joinery. The table top surface and apron are made from Cumaru. The aprons are attached to the top surface with forged stainless steel fasteners.
The legs are crafted from structural aluminum angle measuring 3 inches wide by 3 inches deep by 3/8" thick. The leg heights were determined by the style of table requested. The aluminum legs are attached to the apron with forged aluminum hex socket button-head bolts.