With a desire for greater storage that could blend within the bath area this custom Garapa surface was fashioned to sit atop an Old Florida style vanity that would be placed in a master en suite with tub and shower where moisture and humidity would be ever-present. The light orange to blonde color matched the decor beautifully and the hardness and excellent durability of the Garapa wood properly suited the situation.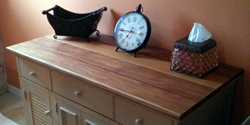 Typical Specifications
top thickness: 1"
top width: 48-1/2"
top depth: 22-3/8"
height: 35"

Construction Information
This piece was created by purchasing a beatuful vanity to match the customers style then creating a striking and breathable 1 inch Garapa surface on top for display.